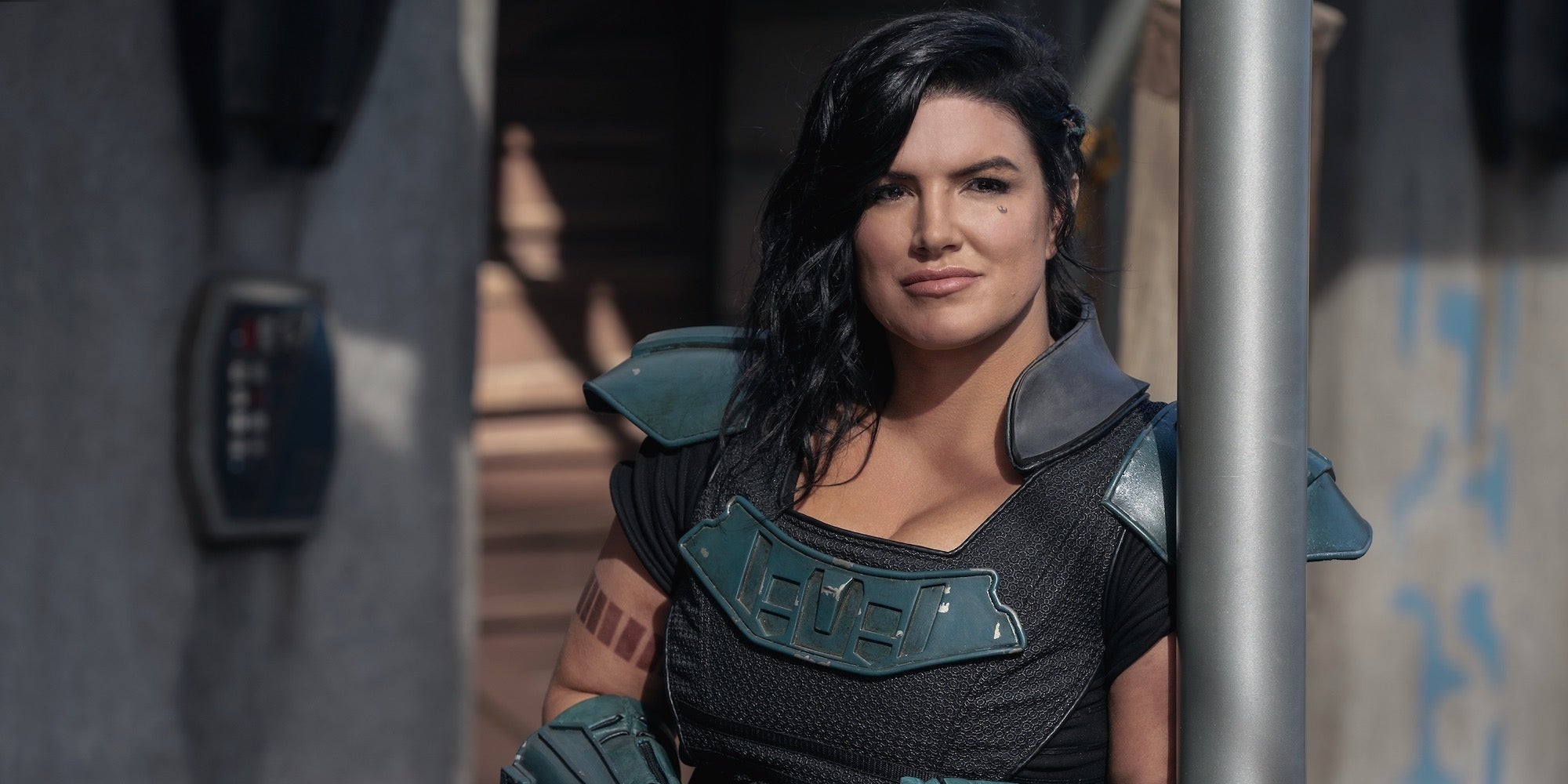 Gina Carano, who stars in The Mandalorian as Alderaanian ex-shock trooper Cara Dune, is drawing even more scrutiny for her Twitter account with some fans calling for her to be fired for anti-mask memes and posts that include misinformation about the 2020 election.
For the fans who've been keeping up with the Mandalorian cast on social media, it's not particularly a surprise. A couple of months back, Carano came under fire for a series of tweets where she mocked people who put their pronouns on social media that, for many, doubled as a transphobic dog whistle, posted anti-mask posts (which she saw as a restriction of her freedom), and shared conspiracy theories. As the votes from the 2020 election continue to be counted, which happens every year but is more noticeable in an election that took place during a pandemic, her posts spread the disputed claim that widespread voter fraud affected the election results.
The more lying, cheating, demoralizing & hate I see..
the clearer it is for me to feel the Power of HOPE, TRUTH, RESPECT & LOVE. ❤️ Let your spirit be filled with strength & peace. Breath.

— Gina Carano 🕯 (@ginacarano) November 7, 2020
She also tweeted a post that includes masks as a political tool and a baseless claim that Democrats are trying to steal the election, reading "Democratic government leaders now recommends we all wear blindfolds along with masks so we can't see what's really going on."
— Gina Carano 🕯 (@ginacarano) November 15, 2020
— Gina Carano 🕯 (@ginacarano) November 15, 2020
She's also among the high-profile people joining Parler, a newer social media platform that many right-wing personalities have flocked to after being banned outright from Twitter or feel that some of Twitter's new rules—such as flagging tweets that contain misinformation about the 2020 election or urge you to read the article before tweeting it out—are akin to censorship.
You can join me over @parler_app
I go by GinaJoyCarano 🎈Joy is my middle name. 😊

— Gina Carano 🕯 (@ginacarano) November 14, 2020
But some have seen Carano's pivot to Parler as an even further embrace of right-wing talking points. According to Insider, the hashtag #FireGinaCarano trended on Twitter as fans highlighted Carano's tweets and some of her recent likes on posts calling for protesters to be shot.
"this isn't just a difference in political opinions, what she has done and continuing to do is violent and harmful," @darthsokas tweeted. "she is supporting and defending white supremacists and their extremist ideals whilst voicing her own."
Gina Carano actively promotes hateful, bigoted views, has tweeted misinformation +conspiracies about the American election, doesn't support wearing masks/treats COVID like a hoax, liked tweets about shooting protesters… this woman is not part of the Rebellion #FireGinaCarano pic.twitter.com/4u52pqI3vo

— new📌✨ceo of kanera, axevanth, dinaxe✨📝NaNoWriMo! (@targaryenjedii) November 15, 2020
#fireginacarano @ginacarano is an embarrassment not only to star wars but to society pic.twitter.com/beMMZEbOSL

— anna 🩸🕊🩸 (@cherrydriverr) November 15, 2020
I wanna start this to clarify that this is not about one's skills about acting. This is not because of "different political views". This is about this person being downright against human rights. #FireGinaCarano pic.twitter.com/nhRCcBq8R2

— eeva | mando spoilers (@reyoffjakku) November 15, 2020
being a racist, transphobic, pandemic denying bigot are not "awkward" opinions, they're harmful and dangerous but thanks for helping the hashtag reach the trending page #FireGinaCarano https://t.co/FWoec2YIdJ

— michelle 💃🏻 (@pascaltaron) November 15, 2020
#FireGinaCarano and replace her with frog lady ✨ pic.twitter.com/wjWivuFTTc

— ✨Chiara✨ (@daisyisperfect2) November 15, 2020
#FireGinaCarano and replace her with Frog Lady please. pic.twitter.com/u6yIqdBTcO

— Wren (@wrenhousevizsla) November 15, 2020
#FireGinaCarano make koska reeves the new female lead instead ♥️♥️♥️♥️♥️ pic.twitter.com/dV6raGu4pH

— jord (@evanscohan) November 15, 2020
fire the trumpet and replace her with certified bad bitch koska reeves #FireGinaCarano pic.twitter.com/98uxnmhh8Z

— sage⁵⁰¹ ⎉ LIKE PINNED 📌 (@frostysoka) November 15, 2020
#fireginacarano and replace her w the ladies we actually want to see pic.twitter.com/sOmjp5Jahc

— olivia ✿ (@G0NKDROID) November 15, 2020
Carano has yet to appear in The Mandalorian's second season, so it's unclear exactly how Cara Dune's arc will play out this season. But for the people who see Carano's social media presence as actively harmful, it might be a tough pill to swallow.
The post 'Mandalorian' fans want Gina Carano fired after anti-mask and conspiracy tweets appeared first on The Daily Dot.
Source: 'Mandalorian' fans want Gina Carano fired after anti-mask and conspiracy tweets