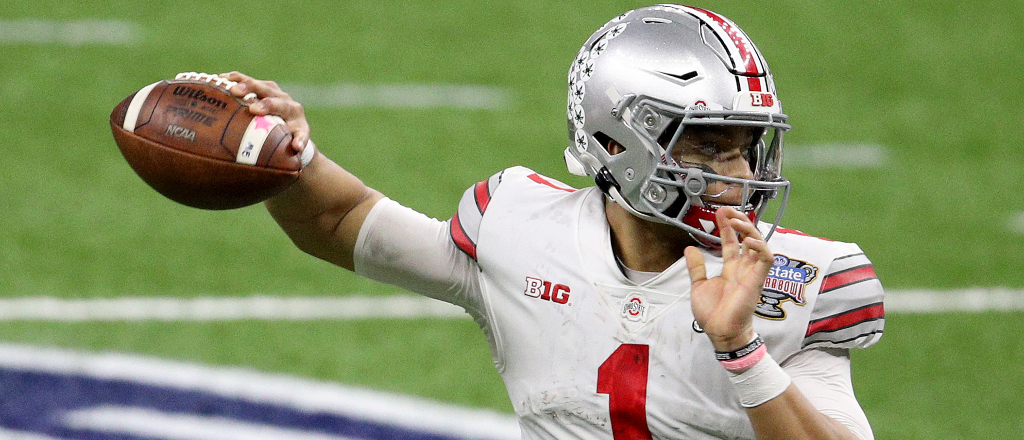 Getty Image
In a pair of blowouts, the Alabama Crimson Tide and the Ohio State Buckeyes punched their tickets to the 2021 College Football Playoff championship game. The No. 1 Crimson Tide took care of business against fourth-ranked Notre Dame in a result that darn near everyone saw coming, while the No. 3 Buckeyes put forth the performance of the season to pull off a shockingly one-sided win over No. 2 Clemson.
The earlier New Years Day tilt was as drama-free as it could have been. While Alabama came out on top, 31-14, it never seemed like the Tide had to get out of first or second gear to take down the Irish in the Rose Bowl, which took place in Texas this year due to the COVID-19 pandemic. The talent gap was evident early on — Alabama scored on its first three drives of the game, with Heisman finalists Mac Jones and DeVonta Smith connecting twice for scores that sandwiched Jones finding Jahleel Billingsly.
DeVonta Smith made them miss and found the end zone

pic.twitter.com/ybWaWBdzNT
— ESPN (@espn) January 1, 2021
Mac Jones

Jahleel Billingsley for the TD!

pic.twitter.com/I197Pmo8Ea
— ESPN College Football (@ESPNCFB) January 1, 2021
DeVonta Smith has no trouble finding the end zone


pic.twitter.com/m0mie5Tby0
— SportsCenter (@SportsCenter) January 1, 2021
Notre Dame was able to score once in the first half on a gorgeous 15-play, 75-yard drive that took just a hair over eight minutes, but otherwise, there wasn't much that the Irish could do. That was the case in the second half, too — the Tide only scored 10 points, with Jones and Smith connecting for a third time, but they stayed stout on both sides of the ball, didn't allow a score until the game was essentially done and dusted, and punched their ticket to next week's title game.
THAT'S THREE FOR DEVONTA SMITH
pic.twitter.com/Ugnf9D6xe5
— SportsCenter (@SportsCenter) January 1, 2021
Jones was magnificent, going 25-for-30 for 297 yards and four touchdowns. Smith, the game's offensive MVP, looked like the guy who will win the Heisman, catching seven passes for 130 yards and three scores. And while he did not find the end zone, Najee Harris was a monster running the ball, toting the rock 15 times for 125 yards and showing off his hops in an impressive way.
THIS NAJEE HARRIS HURDLE

#SCtop10 pic.twitter.com/3qiYJq9wPi
— SportsCenter (@SportsCenter) January 1, 2021
And then, there was the other semifinal, which gave football fans a rematch of last year's classic between the Tigers and the Buckeyes. Clemson came out on top last year, and this time around, Ohio State took the field at the Sugar Bowl looking like a team that spent the last 365 days thinking about getting their hearts ripped out by the squad on the other side of the field.
The Buckeyes looked nothing short of sterling, beating the brakes off of the Tigers en route to a 49-28 win. It was one of the more surprising results of the Playoff era, not because no one thought Ohio State could come out on top, but because you'd be hard-pressed to find anyone who thought they would be able to make Clemson look like a lower-level Big Ten squad.
The story of the night was Justin Fields, as the signal caller who ended last year's game with a pick and was coming off of a putrid Big Ten championship game against Northwestern was out of his mind. Fields went 22-for-28 with 385 yards, a Sugar Bowl record six touchdowns, and a pick, along with a number of throws that carved up the stout Clemson defense.
Ohio State ties it up!!

#CFBPlayoff pic.twitter.com/C2qKkRdtdD
— ESPN (@espn) January 2, 2021
Justin Fields delivered to get the Buckeyes six

pic.twitter.com/c1vJDZyUEh
— ESPN (@espn) January 2, 2021
Ohio State extends its lead to two scores

#CFBPlayoff pic.twitter.com/J1MZzyDfPq
— SportsCenter (@SportsCenter) January 2, 2021
ANOTHER OHIO STATE TOUCHDOWN

Buckeyes take a 35-14 lead over Clemson at the half #CFBPlayoff pic.twitter.com/dfIapkdp73
— ESPN (@espn) January 2, 2021
WOW! JUSTIN FIELDS LET IT FLY FOR A 56-YARD TOUCHDOWN
pic.twitter.com/9z8zy0qEJC
— ESPN (@espn) January 2, 2021
6 TOUCHDOWNS FOR JUSTIN FIELDS
pic.twitter.com/9WecXeo91H
— ESPN (@espn) January 2, 2021
Perhaps the most impressive thing about this performance was that much of it came after Fields got licked by standout Clemson linebacker James Skalski, who was ejected for targeting after his helmet went right into Fields' ribs — the QB went down in serious pain, but only ended up missing a play.
James Skalski was called for targeting and ejected after this hit on Justin Fields. pic.twitter.com/0oqTQCTEDi
— ESPN (@espn) January 2, 2021
On the whole, the Buckeye offense was humming — they went for 639 yards between Fields letting it fly through the air and a stout rushing game led by Trey Sermon toting the rock 31 times for 193 yards and a score. And in what will almost certainly go down to a bittersweet end to a wonderful college football career, presumed No. 1 pick in the 2021 NFL Draft Trevor Lawrence looked mortal en route to losing for the second time in his tenure under center for the Tigers. Lawrence, despite falling, went 33-for-48 with 400 yards, two touchdowns, and a pick.
Clemson made big plays to grab its first TD

pic.twitter.com/Zx0X88tewn
— SportsCenter (@SportsCenter) January 2, 2021
Trevor Lawrence to Cornell Powell for another touchdown. #ALLIN #Clemson #SugarBowl #CFBPlayoff pic.twitter.com/q89xRXfW5D
— Justin Groc (@jgroc) January 2, 2021
Now, the title game is set, with the Tide and the Buckeyes facing off on Monday, Jan. 11 in Miami. It will mark the first game between the two powerhouse programs since the 2015 Playoff, when Ohio State took down Alabama, 42-35, in the semifinals en route to winning a championship.
Source: Alabama And Ohio State Will Play For A National Title After Blowouts Of Notre Dame And Clemson